Joining forces with Carbon Gold to lead the fight against tree disease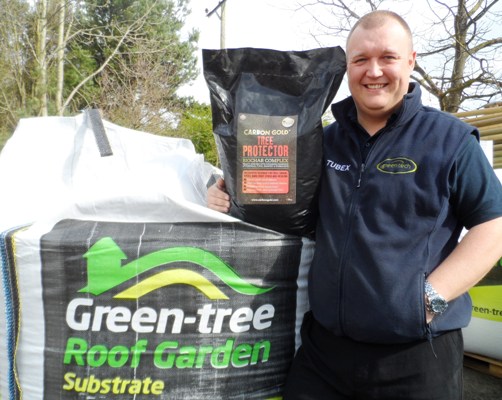 We are delighted to announce a product partnership with world leading biochar company Carbon Gold, resulting in the launch of three new products for the landscaping industry. Green-tree Topsoil, Green-tree Amenity Tree Soil and Green-tree Roof Garden Substrates will now be available to the industry pre-blended with Carbon Gold's Tree Growth Enhancer to significantly increase survival rates of trees and plants.
Trialled at Bartlett Tree Research Laboratories at the University of Reading, Carbon Gold's enriched biochar Tree Growth Enhancer reduces losses and improves the health of trees. Proven to increase vitality and growth, and minimise drought stress, Carbon Gold's enriched biochar also defends against numerous pests and diseases.
The benefits of biochar
Biochar acts like a sponge, significantly improving the water-holding capacity of soil or compost. It minimises drought stress for newly planted trees, reducing the frequency of irrigation and significantly raising survival rates. Enriched biochar reduces fertiliser inputs as it helps to retain mineral nutrients that would otherwise be leached away by rain. It also provides an ideal refuge for mycorrhizal colonies which are essential for healthy root systems.
Our range of topsoils and growing media is one of the most comprehensive in the industry. Manufactured to British Standard BS3882:2007 they offer high nutrient content, fertility value and structural components for the successful establishment of plants, trees and shrubs. With added biochar, Green-tree substrates provide the ultimate environment for successful development and offer landscape contractor's essential assurances.
Mark Wood, Green-tree Business Manager, comments:
"Carbon Gold's biochar blends are one of the best kept secrets in landscaping. They are effective in the cultivation of plants and trees, providing biology and activating natural defence systems to protect against pathogens. Green-tech has led from the fore for many years and I am particularly excited about our partnership with Carbon Gold. The blend of Green-tree soils with enriched biochar is progressive development for the landscaping industry and a commitment to our long term investment in soils."

Craig Sams, Executive Chairman, Carbon Gold added:
"It is vital that the importance and health of soils is better understood. No matter what the quality of rootstock or containerised plants or trees – when these are planted into poor soil with limited biology and fertility it will create stress and inevitably, costly losses.
Thanks to Green-tech's pioneering product development, the landscaping industry now has unique access to purchase organic-rich topsoil enhanced with Carbon Gold's biochar. This will benefit the transplanting and establishment of any new plantings and deliver long term drought and disease resilience. Survival rates are highly important, especially at a time where overall industry losses are high and ongoing site maintenance costs are under pressure from reduced budgets."