Green-tree roof garden substrate specified for BALI Award winning Roof Garden project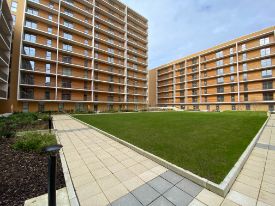 Client: Dandara Living
Landscape Contractor: Palmer Landscapes
Green-tech has announced that their Green-tree roof garden substrate was used in the award-winning scheme installed by Palmer Landscapes. Leodis Square, Sweet Street, Leeds is a city centre development project, comprising four apartment blocks of up to 12 storeys high. The development is also home to two podium gardens; situated on the roofs of the on-site car parking, which form the courtyards for the apartments.
Palmer Landscapes is a commercial landscape contractor with 50 years' experience behind them. The Leodis Square project took two years to complete and won them a 2020 BALI Award in the category Roof Gardens/ Living Wall Installations – Residential Roof Garden or Podium Landscaping – under 250k
Palmer Landscapes constructed and landscaped the central podium courtyard gardens to offer an outdoor area that fits with the aspirational design of the overall development. The landscape design for the shared courtyard space contains varied seating opportunities, planting and lawn areas where residents can sit back, relax and enjoy city life.
Palmers have a long-standing relationship with Green-tech and turned to them for their landscaping materials. This complex project involved importing 550 m3 of Green-tree lightweight roof garden substrate, through narrow walkways up to the podium courtyard gardens. The Palmers team has a wealth of experience of transporting substrates onto elevated areas and they decided to blow the substrate utilising a specialist topsoil pumping wagon.
Adam Palmer of Palmer Landscapes comments,
"It was an innovative solution which required extensive planning and many trial runs. There were concerns over the quality of the planting material once it had been blown and we had disaster plans, should any machines breakdown. However, testing off-site and a great team behind us, helped us achieve the import of soil in 7 days."
Green-tree roof garden substrate is lightweight and free-draining and was purpose mixed for this site. It is manufactured from an environmentally sustainable compost of recycled materials and lightweight aggregate.
The team worked closely with Palmers to coordinate timed, scheduled deliveries that adhered to tight city centre restrictions as well as requirements to keep a steady flow of substrate for the topsoil pumping wagon. The teams worked weekends and evenings to adhere to movement restrictions.
Adam continues,
"The Green-tree substrate was specifically selected for its green credentials, which appealed to both the client and main contractor. We have used this substrate on other roof gardens and knew that it would offer quick establishment which was exactly what this site needed."
Green-tree substrate was delivered to the site on a grab wagon. The substrate was then transferred to a pumping wagon and over 100m of pipeline was used for the substrate transfer. Overall, it took seven days to complete the import of the substrate. Smaller planted areas, employed a conveyor method where the substrate was placed on the conveyor belt tipped over the walls and barrowed to site.
The imported substrate created mounded plant beds and large turfed areas to the central courtyards to create the social spaces between the four buildings.
Mark Browne, Key Account Manager at Green-tech added,
"I have worked with Palmers for a long time and I was delighted to be involved in this project. We needed to work closely together to make sure the flow of substrate was constant and delivered exactly when they needed it. I am delighted that this project has won them a BALI award. It's a fabulous urban landscaping project that the Palmers team worked incredibly hard to deliver."
Posted on 16 May 2022